This 25th January we celebrated Burns Night in France. Not so strange really, as 'the auld alliance' between the French and the Scots goes back to 1295. Indeed, as late as 1903, any Scots person who wanted to live in France was granted French nationality automatically.
This alliance was forged of course through a mutual distrust of the English- and- oh dear!- I don't suppose much has changed there over the centuries.
Anyway, fusion cooking (Franco-Scots) was the order of the day last Sunday and, after a smoked salmon starter, we piped in our haggis in the guise of a Parmentier.
As the only haggis I could lay my hands on was brought over tinned from the UK (but very good it was even so), it needed a bit of dressing up.
The tinned haggis was moistened with a little whisky and gravy, topped with a potato puree, dusted with grated emmental and breadcrumbs and baked in a hot oven (190-200 degrees) until bubbling and golden.
I thought it might be a bit over-substantial, but it disappeared faster than a 100 metre sprint at the Glasgow Commonwealth Games.
Haggis Parmentier
I accompanied it with roasted turnips and heritage carrots (known here as
legumes oublies
and very much in fashion too).
These were particularly delicious.
Beaautiful veg in the market
Thoroughly wash, peel and prepare the veg then parboil (or microwave them) until just starting to be tender.
Toss the hot veg into a baking dish with a good glug of olive oil, two tablespoons of honey, 1 tablespoon of coarse grain mustard, two whole cloves of garlic and loads of salt and pepper.
Roast along with the Parmentier.
Mustard roasted 'forgotten vegetables'
Normally, I have veg leftover to make a Spiced Clapshot Soup the next day, but not so this time!
For pudding we had chocolate moelleux ( see last week's post for the recipe) with Scottish raspberries (frozen of course but so what?) and whisky
creme anglaise
.
Moelleux with Raspberries and Whisky Custard
There was a small amount of the main dish leftover- so I made it into Haggis Cocotte ( a refried hash with a baked egg in the centre- yum!)
Mash up the leftover haggis and potato, make it into a large round and then fry it in a pan until beginning to caramelize underneath. Turn it over and fry on the other side. Slice it down the middle and into quarters and then combine each of the quarters with the one opposite and fry again on both sides. That way you get the lovely crispy bits running through the hash.
Making a hash of it
Divide into individual ovenproof dishes and make a well in the centre of each one.
Break an egg into the well, dust with a little black pepper and gruyere cheese and bake at 190 degrees for 12-15 minutes until the white of the egg is set properly (test with a knife).
Haggis Cocotte
And so yet again we have toasted the Baird of Alloway in a fitting manner. How will we do it next year?
O wad some pow'r the giftie gie us
to know that one!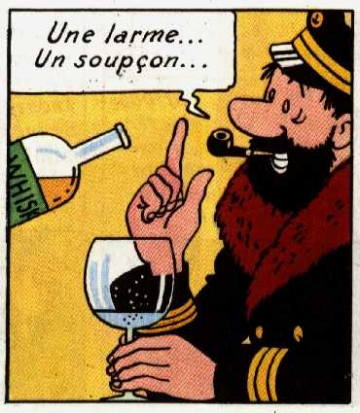 Cul sec!