Well, I'm back in Blighty, back on home turf with a bump- so it's back to familiar blog territory too ie. using up stuff that you might throw away (if you didn't know better.)
I had a bag of leftover picnic foods from our journey across France, and a storecupboard full of packets and boxes that had sat unused and unloved for the 3 months I was away. Time to use up biscuits, cereal, toasts, cakes and other dry goods before it was too late to do so.
I started with the breakfast cereal- and made a Bettelmann. This is a bread pudding-like cake from Alsace made from cereal and/or toasts, soaked in milk and baked with fruit and a bit of booze.
The name means 'Beggar Man' and is also known as 'Mendiant' in French.
Nothing too poor about it though, as it is spicy and satisfying- especially when served with cream or custard.
It featured in this Saturday's Guardian Cook supplement too.
http://www.theguardian.com/lifeandstyle/2015/apr/25/cornflake-tart-oat-quiche-ice-cream-sandwich-recipe-swap
Soak some sultanas (or traditionally cherries) in a litle rum (or kirsch for cherries).
Warm but don't quite boil 450ml of milk, 3 tbsp of sugar and add 125g of crushed cereal. Work the mixture with a fork, then a wooden spoon, until you have a homogenous porridge-like consistency. (I know it doesn't sound or look great at this stage- but have faith!) Leave this to stand whilst you butter and line a 20cm cake tin with
chapelure
(finely blitzed biscotte /toast crumbs).
Into the cake mixture, beat 2 large eggs, a teaspoon of mixed spice and a teaspoon of cinnamon.
Peel and thinly slice a dessert apple and add this plus the rum-soaked sultanas to the mix.
Pour the mixture into the cake tin, level the surface and sprinkle with a sachet of vanilla sugar.
Bake at 170 degrees for 50 minutes or until a skewer inserted into the middle comes out clean.
Bettelmann with apples and sultanas
I made a very similar pudding-cake using a packet of semolina. I know, I know..semolina! When was the last time you thought of serving that up to your guests? In fact, I only had a packet in the cupboard as 'emergency camping food'.
However, a gateau de semoule is a very popular French dessert- and I thought I would have a go at making it.
I was pleasantly surprised.
You need 200g of semolina, 150 g sultanas, 140 g caster sugar, 1 litre of milk, 2 eggs, 5 cl of rum and some vanilla essence. For the caramel topping you need 120g of powdered sugar and 4 dessert spoons of water.
1. First soak the sultanas in the rum.
2. Then make up the semolina according to the instructions using the milk, sugar and vanilla essence. Leave it to thicken and cool.
3. Pre heat the oven to 170 degrees and make the caramel by boiling the water and powdered sugar together until it darkens in colour.
4. Pour the caramel into a lined 20 cm cake tin and allow it to spread out.
5. Now beat the eggs into the semolina and pour it over the caramel.
6. Bake in the oven until golden and firm.
7. Cool slightly and peel off the lining paper, turn out, slice and serve.
The next two desserts are similar in many ways- they both use an egg custard to set them, rather like a bread-and-butter pudding.
The first I made from a packet of galette biscuits- but any biscuits would do eg. Nice, Malted Milk or Digestives.
Here is the recipe (which appeared in the Guardian earlier in the year.) Their picture (and flattering write-up) is so much better than mine!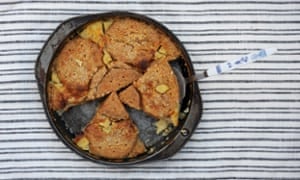 "Every dish I cooked was delicious, but the cake from LeftoverLiz quite literally took the biscuit. Who'd have thought that a pint of milk, a couple of eggs, a leftover apple and a few old biscuits could make such a show-off pudding? I've since tried it with digestives too, so don't be afraid to experiment with the broken bits at the bottom of the barrel." (The Editor- Guardian Cook supplement)
The winning recipe: Breton biscuit cake
Although I've made this pudding-cake with Breton galette biscuits (because I love their toffee buttery taste), the recipe will work well with any simple biscuits (malted milk, Nice and so on).
LeftoverLiz, via GuardianWitness
Serves 8-10
1 dessert apple or pear, peeled cored and chopped
1 tbsp butter, for greasing the tin
2 eggs
100g caster or vanilla sugar
500ml milk
1 tsp vanilla extract
150g stale biscuits
1 First make a compote with the apple or pear. Put the fruit in a small saucepan with a little water then stew it down to a pulp for around 15 minutes. Set aside to cool.
2 Generously butter a 15cm cake tin, then beat the eggs and sugar together in a bowl until the mixture goes pale in colour. Mix in the milk and vanilla.
3 Spread out the biscuits in a layer on the bottom of the tin, add a spreading of the fruit compote and then pour over some of the milk mixture.
4 Repeat with a second and even third layer until you have used up all your ingredients.
5 Leave it to soak while you preheat your oven to 180C/350F/gas mark 4 and then bake the cake for around 20-25 minutes until the custard is set. Leave to cool, sprinkle with icing sugar and serve in slices with cream.
My final dessert for today uses up my picnic- to be precise: a box of Madeleines and some jam.
Leftovers from a Proustian picnic
1.Butter a gratin dish, slice the madeleines lengthways and spread them with jam.
2.Preheat your oven to 170 degrees
3. Arrange the madeleines in the dish and pour over an egg custard made from 350 ml of milk mixed with 1 beaten egg, some vanilla essence and 100g of caster sugar.
4. Allow the milk to soak in to the cakes and then bake until risen and firm (about 25 minutes).
It is nice to be back- but I think it is high time I went out and bought some fresh ingredients. Don't you?