I've just returned from a weekend in Rotterdam- and, as ever, I was keen to come back with some ideas for the blog. I don't think I've featured Dutch recipes before, so an extra reason to be curious about the cuisine.
Well, if you like your food crispy- and usually deep fried- then Holland is for you!
Fish and chips,
kroketten-
and
bitterballen-
seemed to be the order of the day.
I confess rather guiltily that I was taken with these crunchy treats- especially with a cold glass of beer and some strong mustard for dipping.
Back home, I searched out the recipe- and discovered a brilliant new way to use up leftovers, be it a bit of Sunday roast, some spag bol, corned beef, ham, cauliflower cheese...you name it, they can be made into delicious
bitterballen
in no time.
Bitterballen- the originals
To start, you need a
roux
sauce base- melt 1 tbsp of butter in a pan and add 1 and a half tbsp of plain flour. Mix together to cook out the flour over a low heat.
Mix the flour into the melted butter
Add just a splash of milk and plenty of salt and pepper. Your are aiming for a thick paste- with a really glue-like consistency. (A bit like the base for Welsh Rarebit)
http://lizsleftovers.blogspot.co.uk/search/label/welsh%20rarebit
Then- mix in 1-2 tbsp of your chosen filling. I suggest:
leftover roast beef, shredded, with horseradish
pulled pork with apple or BBQ sauce
shredded Chinese duck
corned beef or ham, finely chopped
spring onions, grated cheese and mustard
leftover veg with cheese or spring onion
leftover ragout or spaghetti sauce
I chose some leftover cauliflower and broccoli cheese, chopped it up quite small and mixed it in with the sauce.
Now turn the mixture out onto a chopping board and leave it to cool, until it can be handled.
Bitterballen 'dough' ready for coating
Line up 3 saucers- one with flour, one with beaten egg or milk and on with soft breadcrumbs or
chapelure
( made from blitzed
biscottes
or crispbreads).
Flour, egg/milk and breadcrumbs at the ready
Break off walnut sized pieces of the 'dough' and coat them first in the flour, then the liquid and finally roll in the breadcrumbs.
Coat in breadcrumbs
Now, you can either fry your
bitterballen
in hot oil until crispy- which is the traditional way- or you can bake them in a lightly oiled baking tray at 180 degrees until golden brown.
They may spread a bit in the oven but can easily be reshaped with a spoon when you take them out to drain on kitchen paper.
Cauliflower Cheese Bitterballen
If you prefer, you can use leftover couscous as a coating
,
as I have done before on the blog with my Chicken Doris
You can mix it up too- to make a bittergarnituur- lots of different flavoured ballen and kroketten, for a party.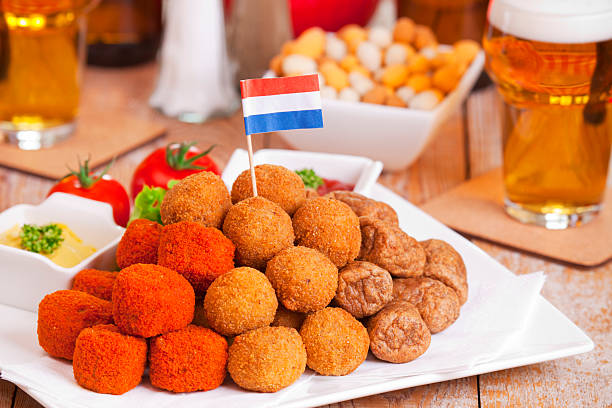 Bittergarnituur
The sky ( or probably the fridge) is the limit.
Enjoy!