I've just returned from a weekend in France- and of course picked up some copies of my favourite recipe magazines- all of which this month had banner headlines like 'Folie de legumes!' or 'Legumes a gogo!'
Well, it's not really vegetable madness here. But it is the time of year when just about every vegetable is available- either at the end of it's season, the beginning or more than likely at it's best.
So, I thought that this week I would revisit some of my favourite vegetable recipes - as well as adding a few new ones to the list.
Some of these recipes are for side dishes- but many make the vegetable the star. Some are vegetarian and others not, but can easily be adapted. I hope you like them.
Everyone knows I have a penchant for stuffing vegetables- the blog has featured many:
marrow or courgettes stuffed with leftover bolognaise or cauliflower cheese
.
http://lizsleftovers.blogspot.co.uk/2013/10/week-35-harvest-festival-recipes.html
Or stuffed tomatoes with rice:
Or my petits farcis, as featured in the Guardian Cook section no less!
And there are also my Biryani stuffed peppers:
http://lizsleftovers.blogspot.co.uk/2013/09/week-31-warming-things-up.html
Stepping away from the vegetable stuffing but tucking a few aubergines under my arm as I go, I'm going to turn the spotlight next on these.
I've also had some publishing success with two of my aubergine recipes: caviar d'aubergines and Aubergine and Butter Bean Soup. Here are the printed versions:
Caviar d'Aubergines with Honey
https://witness.theguardian.com/assignment/5360cee7e4b05034061a994d/957879
Aubergine and Butter Bean Soup
https://witness.theguardian.com/assignment/53a1a2bbe4b05b4868aa612a/1036364
But one of my favourite ways to eat this veg (or is it a fruit?) is as cannelloni. Here is the recipe:
Report
In this dish, the pasta is replaced by rolled slices of aubergine and the filling is made from a duxelle of mushrooms. It sounds like a faff- but it really isn't. It's simple, delicious- and with aubergines at 49p each as they were today when I was shopping, it's a really economical dish too.
Ingredients:
1 medium aubergine per person
110 g mixed mushrooms (chestnut, button, portobello)
1 onion, chopped
1 clove of garlic, minced
1 tabelspoon of fresh chopped herbs eg. parsley, marjoram, basil
50 g soft cheese with garlic and herbs eg Boursin
25 g freshly grated Parmesan
olive oil
salt and pepper
For the tomato sauce:
1 tin chopped tomatoes
10g butter
1 tsp red wine vinegar
1 tsp sugar
1. Slice the aubergines lengthways, brush with a very little olive oil, place on a baking tray and bake in a hot oven (200 degrees) for 15- 20 minutes until soft
2. Meanwhile, fry the onion and garlic in some olive oil and add the chopped mushrooms and herbs
3. When tender, put the mushroom mixture into a food processor and pulse until it resembles a coarse pate
4 Mix with the soft cheese and adjust seasoning to taste
5. Spread each slice of aubergine with the 'pate' and roll up, placing seam side down in a baking dish
6. Simmer together the tomatoes, wine vinegar and sugar until reduced by a third, then whisk in the butter to emulsify.
7. Pour over the aubergine rolls, sprinkle with grated Paremesan and finish cooking under a hot grill until the cheese is browned.
I also tried out a new mushroom recipe this week- Mushroom Creme Brulee.
It worked a treat and is delicious as a starter or brunch dish.
Mushroom Creme Brulee
Serves 4.
Ingredients:
110g of flavourful mushrooms (eg. Portobello, chestnut)
10g of dried wild mushrooms
3 shallots (finely chopped)
1 clove of garlic (minced)
4 eggs
450ml of milk
150 ml of single cream
70g of freshly grated Parmesan
1 tsp fresh thyme
2 tbsp madeira or sherry
juice of 1/2 lemon
butter for frying and greasing the ramekins
salt and pepper
1. Soak the dried mushrooms in some hot water until reconstituted and tender
2. Fry the shallots and garlic in a little butter or oil for 5 minutes
3 Finely chop the fresh and soaked mushrooms, add them to the onion and garlic and squeeze over the juice of the lemon.
4. Add the thyme, salt and pepper and fry gently for 10 minutes until all the mushroom liquor has evaporated.
5. Add the madeira and cook until that has evaporated too.
6. Spoon the mixture into the base of 4 buttered ramekins
7. Mix the milk and cream in a large jug, season again with salt and pepper and beat in the eggs one by one
8. Pour the mixture into each of the ramekins and place them in a baking tray half filled with boiling water. Sprinkle the Parmesan over each one.
9. Bake for 30 minutes in a moderate oven
10. Allow to cool to room temperature before serving
11. Just before bringing to the table, glaze the top of each one using a blow torch (or flash under a hot grill) to create a bubbling, caramelized topping.
Let's move on to some side dishes now.
Firstly -fennel. I wasn't keen on this aniseed-y veg at first, but this recipe which sweetens it with orange juice and seasons it with salty olives, is not to be missed. Many thanks to French friends for the recipe.
Report
When I first had this braised fennel dish (at a barbecue) I was amazed by the combinations of flavours- salty, fruity and aniseed-y all at the same time. Wonderful with fish (served here with barbecued trout) or lamb chops.
Ingredients:
2 bulbs of fennel
20 cl of orange juice
1 tablespoon of pitted green olives, chopped
1 onion finely chopped
1love of garlic
olive oil and a knob of butter for frying
Soften the onion and garlic in the oil and add the finely sliced bulbs of fennel.
Add the butter and stir in.
Pour over the orange juice, cover and simmer until all the liquid has been absorbed and the fennel is tender (about 20 minutes on a low heat). Just before serving, add the chopped olives and season to taste.
This dish works well in the slow cooker too.
Next- sweetcorn. You can't beat a sweetcorn fritter.(Well, I like fritters made with just about anything from peas, spring onions, courgettes and aubergines to apples and pineapple rings!)
First assemble your batter- Sift 125g of plain flour into a bowl along with 1/2tsp each of salt and baking powder; make a well in the centre and add one beaten egg and 1 tbsp of either melted butter or vegetable oil and 150 ml of milk and whisk together until you have a thickish batter. Mix in the sweetcorn and leave for 10 minutes or so to stand.
Heat a drop of oil in a non stick pan and place spoonfuls of the batter mix, well spaced apart into the hot pan. Fry until golden on one side and then flip over with a palette knife and do the same on the other. Serve as part of a Chicken Maryland dish , with roast chicken or as part of a brunch with crispy bacon.
Sweetcorn fritters
A new recipe that I tried this week is Raclette Potatoes- potatoes filled with raclette cheese and wrapped in Parma ham, then sandwiched together:
Bake 4 medium potatoes until just tender in the microwave for 6-8 minutes. Allow to cool before slipping off the skins and halving lengthways.
Lay a slice of raclette ( or gruyere cheese) on 4 halves then sandwich back together. Wrap Parma ham or streaky bacon around the 'sandwich'. Hold together with a cocktail stick and fry in oil until golden and the bacon/ham is crispy. Place in a hot oven for 6-7 minutes until the cheese has melted.
Fry the potatoes in hot oil until crispy
Raclette Potatoes
Finally, I couldn't finish without mentioning my most controversial recipe to date- one which earned me my first (and hopefully only) internet troll- yes, it's those mushy peas again!
Minty mushy peas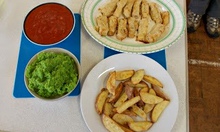 I've never been a fan of the traditional mushy marrowfat peas, but this version, which is made with garden peas, spring onions, stock and mint, is enough to convert anyone. I've served it with some homemade fish fingers, chips and tomato sauce, but it's equally at home among more regal dishes, such as a bed for scallops, or whipped up with more cream in shot glasses as a canape.
leftoverliz,
lizsleftovers.blogspot.co.uk
, via
GuardianWitness
Serves 1 generously, 2 delicately
125g frozen peas
3-4 spring onions, chopped
2-3 sprigs of mint
500ml boiling chicken or vegetable stock
1 tbsp creme fraiche
1 Cook the peas, spring onion and mint in the stock until tender, but still vibrant green. Drain off the excess liquid and discard the mint – it has worked its magic!
2 Add the creme fraiche and blitz with a hand blender until you have a smooth, bright-green puree and off you go!
Feel like sending me some more critical feedback? Now that really would be vegetable madness!