.
Herby-dacious!
"Herby-dacious!" was the password that opened the gates to the magic herb garden in Oliver Postgate's 'The Herbs' back in the 1970's. It featured Parsley the Lion, Dill the Dog, Sage the Owl
et al
In those days, I didn't even know dill
was
a herb.
Now I have my own magic herb garden.
And the annuals are in full leaf- parsley, chives, lemon balm....
So my thoughts have turned to how to preserve these treasures to add to soups, stews, sauces....you name it...throughout the year ahead.
As I was busy with preserves, I added thyme to my apple jelly- which featured in last month's blog but it also enhances marmalade too- as here:
Orange and Thyme Jelly
Ingredients: (to make 4lb of marmalade)
1 tbsp fresh chopped thyme
1. Wash the oranges and lemon, halve them and squeeze out all the juice
2. Chop roughly and place in a heavy pan with the water
3. Bring to the boil and simmer for 10 minutes
4. Strain the fruit and put the liquid-
made up to 570 ml again with the fruit juice, along with the sugar, back in the pan.
5. Cook over a low heat and dissolve the sugar then bring up
to a rolling boil and boil for two minutes.
6. Add the thyme and continue to boil for another two minutes
7. Add the pectin and boil for a further minute
8. Test a spoonful of the mixture on a cold saucer to see if it is setting.
9. If not, continue to boil, testing every minute or so for a 'set'.
10. Skim the surface and strain the mixture once again to remove the thyme
11. Pot up in sterilised jars and label
Mint is another herb that goes well in a jelly- to serve with lamb or mix with yogurt for a dip for poppadoms.
Keep a container in the freezer for lemon shells, and when you have squeezed the lemon juice out, freeze them to use for flavour and added pectin for your jellies.
Leftover lemon shells
To make mint jelly ( or rosemary jelly- equally good):
6 tbsp white wine vinegar
1. Chop the lemon shells in a food processor and then simmer in the water in a saucepan for 15 minutes
2. Strain the mixture through a clean jelly bag for 3-4 hours
3. Make the liquid back up to 500 ml if necessary
4. Put back in the saucepan with the sugar and vinegar and heat until the sugar dissolves
5. Chop the mint, add to the pan and bring the mixture to the boil for 3 minutes
6. Strain off the mint and continue to boil until the mixture reaches setting point (as in above recipes)
An obvious way to keep herbs handy over the winter is to keep bunches of dried leaves in the kitchen- thyme, rosemary, bay, sage and oregano survive well like this.
Dried herbs for the kitchen
But softer herbs like parsley, basil, chives and mint are not so great dried. They do well if chopped and frozen in ice cube trays ready to use. Basil and oregano do well frozen like this, but also you can freeze them in olive oil so they can be dropped into pasta dishes.
Herb butters, sugars and vinegars make a little go a long way too.
Mix herbs of your choice with butter and place on cling film, roll up into a sausage using the cling film, briefly unroll it and slice into portions then wrap it up again and freeze it.
Herb butter
Mint and lemon balm flavour sugar nicely, for adding to cakes and puddings. Simply pour caster sugar into clean jars and poke in some sprigs of your favourite herb. Screw the lid tightly and leave for the flavours to develop over the next few weeks.
Mint sugar
Other herbs, like rosemary and thyme add flavour to vinegars.
Measure out some white wine vinegar to fill your sterilised bottles- bring it to the boil and pour into the bottles, press in a sprig of your chosen herb and seal. Great for salad dressings.
Now your herbs are all safely dried, frozen, jellied and otherwise preserved- it's time to make them the stars of your recipes.
Rosemary and Olive Sables
Lemon and Chive Hollandaise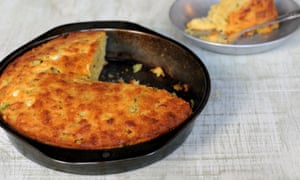 Sage and Onion Cornbread
http://lizsleftovers.blogspot.co.uk/search/label/corn%20bread
And finally- work some fresh herbs into your next batch of pastry- either add them at the rubbing in stage, or press them into ready made short crust pastry.
You can then go on to make flavoursome quiches like this Courgette and Tomato Tart- very simple but the genius lies in slicing your courgettes thinly
then rolling them up cigar fashion to build your tart
then add three beaten eggs, salt and pepper, a dusting of Parmesan and bake at 170 degrees until set.
Courgette and Tomato Tart